Web Based Training/On-Line Learning '98
A Virtual Conference on the World Wide Web, February 23-27, 1998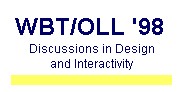 This event has ended and the archive is now closed.

If you missed WBTOLL '98 try VITAL '98
Welcome to the home page for the Spring 1998 virtual conference on Web Based Training and On-Line Learning, WBT/OLL '98. This event will take place February 23-27, in its entirety, on the World Wide Web. This virtual conference will provide a forum for educators and trainers to interact with their colleagues and peers on WBT/OLL issues that are important today.
The WBT/OLL '98 Virtual Conference guest facilitators and keynote speakers are invited experts. The quality of the WBT/OLL conference interactivity, and our use of the on-line medium makes WBT/OLL '98 the leading forum for developers, educators, trainers and others interested in Web Based Training and On-Line Learning. This event includes:
Audio Keynote - We are planning to offer at least one of the keynotes in both an audio & text format. Any audio keynotes at the conference will be accessible via the RealPlayer (version 4.0 or higher) from Real Networks.
Scroll down for more information on the conference workshops, keynoters and registration information. If you have any questions or comments, please check the Frequently Asked Questions. If you still have a question, email us.

Workshops
Workshops are working areas where WBT/OLL topics are facilitated by your peers. The facilitators are hands on practitioners who have experience and interest in the workshop topic. As of January 5th, 1998, the following workshops are scheduled:


Instructional Design
Interaction Strategies
Challenges of Tomorrow
Design Challenges
Open Workshop**

**The Open Workshop is where attendees can initiate discussions on topics they think other attendees would have an interest in. Use this area to discuss and/or ask questions on topics not addressed in the keynotes or other workshop areas.
Keynoters
WBT/OLL '98 is proud to announce an exciting lineup of keynote speakers who will provide their thoughts on Web Based Training and On-line Learning. This will be your chance to interact one-on-one with some of today's leading WBT/OLL thinkers. The keynotes will begin at 12:00 Noon (EST) on the first day they are scheduled.

Monday - Wednesday (23rd-25th) - Margaret Driscoll, M.Ed., MBA, MA, Instructor University of Massachussets/Boston, Graduate College of Education - "Tactics and Techniques for Developing Web-based Training Programs for Adult Learners."

Tuesday - Thursday (24th-26th) - Dr. Murray Turoff, Distinguished Professor, New Jersey Institute of Technology. "Why do it and what is it we do?"

Wednesday - Friday (25th-27th) - Ann Yakimovicz, President/CEO, Aprendio Inc. - "All Those Glorious Possibilities in Online Learning: Can Our Organizations Handle the Change?"



Registration Information
Registration is now closed. If you would like to be on our notification list for future virtual conferences, send us an e-mail.

Try The Training & Management Bookstore, where every purchase is a donation to charity. Check out the lists of 20 classic training and management books
---
If you have comments or suggestions, please send us email.
Organized by The Training Place, Inc.
All Information Copyright, © 1997, 1998