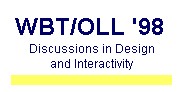 "Why do it and what is it we do?"
Dr. Murray Turoff's Keynote

What are the motivations for the institution, the faculty and the administrators to move to sizable offerings of degree programs through the new forms of distance learning technology? How do the alternatives for delivery impact what it is we are delivering?

It is very much like the old story of the elephant and the blind men. Everyone see the evolution from a every different viewpoint. There is not only the universities and its interested parties but there is also the students and industry who are playing significant roles on fostering the changes taking place.

Dr. Turoff has some views on this topic expressed in a paper available on the Web. He welcomes questions and discussion about any of the relevant points he has made in that paper or any points that others feel have not been covered. The paper (The Force and the Darkside of Distance Education) may be found on his homepage: http://eies.njit.edu/~turoff/




Conference Home Page




Registration Information

Registration is now closed. If you would like to be on our notification list for future virtual conferences, send us an e-mail.

After registering you can check out The Training & Management Bookstore, where every purchase is a donation to charity. Check out the lists of 20 classic training and management books while you are there.
---
If you have comments or suggestions, please send us email.
Organized by The Training Place, Inc.
All Information Copyright, © 1997, 1998