Today's Learning Challenge
Today's business rules and needs are drastically changing.  The real challenge is not simply learning, but continually learning more successfully.  Our innovative learning solutions remove traditional barriers to learning (e.g., high costs, frustration, and demotivation).  We know that it takes personal recognition, convenience, communication, and a sense of community and empowerment to make learning really work on the Web.  If people are individually encouraged and reinforced by the training to feel that they have achieved and gained useful skills, then they feel empowered.  Empowered employees help companies become more aggressive, efficient, and productive.
Most training programs fail to meet today's learning challenge because there is no consistent, measurable foundation or process that motivates employees, especially one that considers the impact of emotions and intentions on learning.  The traditional learning style perspectives are incomplete and fuzzy when applied against today's competitive business needs, market requirements, and global demographics. We use the power of emotions to influence learning success.
You can reach us toll-free at 888.289.3212.
Personalized Learning Solutions
We offer the Learning Orientation Questionnaire (LOQ) to assess online learning ability. It is a 25-item online survey that identifies an individual's orientation to learn by looking at the dominant psychological factors that influence learning differences.  These factors consider the learner's emotional investment in learning, strategic self-directedness, and learning independence.  You can find additional product info at: www.trainingplace.com/loq/loqinfo.htm.
What do you need to get started?
Contact us at The Training Place ttpinform@trainingplace.com
We'll provide a customized strategic plan and cost models for implementing your innovative e-learning solutions.
We also provide research and measurement services.
<![if !vml]>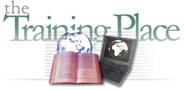 <![endif]>
The Training Place
Our company was founded to help you deliver personalized training with a special consideration of the impact of emotions, intentions, and social relationships on learning. 
We understand the individual differences in learning, memory and performance and provide the personalized learning solutions to help your employees and students learn more successfully.
The Training Place, Inc.
743 W. Bougainvillea
Tucson, AZ 85737
Office: 520.877.3991
Fax: 520.844.8500
We are a minority-, woman-owned, and
SBA 8A-certified company